Visit Us
---
Centreville is located near the northwestern "arc" border that divides Delaware from Pennsylvania.
Here, in the Piedmont Upland, rolling hills, wooded terrain and steep slopes characterize a departure from Delaware's otherwise flat terrain. The unincorporated Village and surrounding lands are within the political boundaries of Christiana Hundred, in New Castle County.
Centreville is bordered by Brandywine Hundred to the east, Chester County, Pennsylvania, to the north, the towns of Yorklyn and Hockessin to the west and Greenville to the south. Wilmington, Delaware's largest city, is 7 miles southeast of Centreville, following Kennett Pike (Route 52).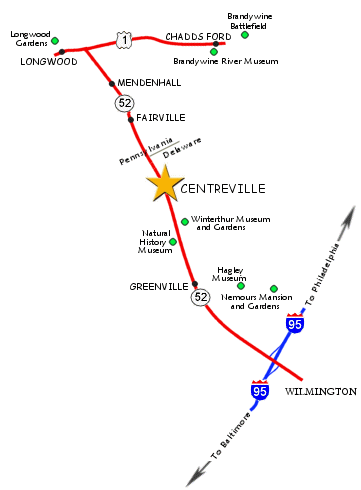 Centreville's name was derived from Friends Centre Meeting, established by Quaker settlers in 1689.
Founding Date (nominal): 1750
Area: Approximately 14 square miles.
Number of Households: 925+

Distance to Major East Coast Cities:
Philadelphia - 35 miles
New York - 125 miles
Baltimore - 75 miles
Washington - 110 miles

Elevation: 438 feet above sea level